This week we thought we would present our own wallet called Stackr, we have been working on it for a while now, and it is something we are very proud of. Stackr isn't your "traditional" crypto wallet by any means; what we have done with Stackr is combine the best of old-world infrastructure with that of the new. Stackr is a wallet that sits inside your own personal trust. But before we get onto that, let's explore what a trust is in the first place.
What Is a Trust?
Trusts have existed since the Roman Empire. Today, many different types of trusts exist; however, all have three core parties involved: the trustor/settlor, trustee, and the beneficiary. There is also sometimes a fourth participant called the Protector.
A trust is set up when a settlor transfers ownership of their assets to the trustee. The trustee now has the legal responsibility to hold the assets for the trust's beneficiaries. The rules that dictate what the trust can do are governed by the trust agreement or trust deed, which is initially drafted when creating the trust.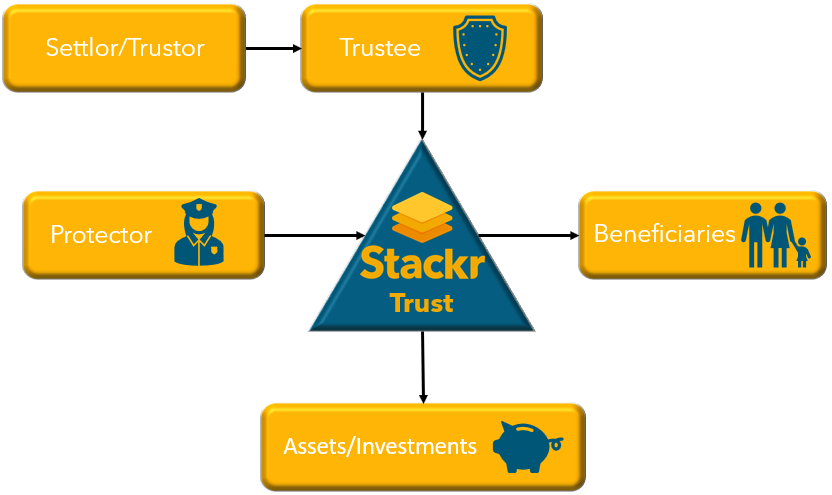 Why Use a Trust?
Trust law and the corresponding benefits can vary significantly from jurisdiction to jurisdiction. Therefore, it is always advised to contact a tax professional or financial planner when deciding if setting up a trust makes sense for you as an individual.
Generally, though, trusts offer several benefits from a tax and asset protection perspective.
Firstly, what must always be kept in mind is that trust are a long-term savings solution. They aren't there to move money in and out of quickly, else most of the tax benefits disappear. So what can trust do?
Delay capital gains – a trust can allow you to move between different assets, from traditional ETF's, commodities or crypto, without triggering a capital gains event.
Reduced estate taxes – when you die, your assets can be taxed substantially by the state; through a trust, you can potentially avoid this through something like a step-up in basis, which can result in tax savings for the heirs of the trust.
Estate planning – future generations will be provided for with the wealth you have accumulated, in the way you want it to. A trust can also potentially help avoid lengthy and expensive probate processes through the nomination of beneficiaries.
Immigration/emigration – as either a digital nomad, an individual, entire family or members of the family, a trust can allow you to take advantage of any relevant tax, exchange control or other laws of the countries involved.
Privacy – In some countries, the will of someone who passes away can be made public information; this can result in creditors and other people who may want to claim from the estate aware of what is available. A trust can enhance your privacy as an individual or family.
While these are not the only benefits a trust can provide, they are some of the main reasons people set them up in the first place. As stated before, always contact a tax professional to see if a trust is an appropriate solution to your circumstances.
As with anything with benefits, there are also drawbacks that have traditionally been associated with a trust. The most common is that a trust is prohibitively expensive to set up and maintain for the average individual; therefore, we have seen only high net wealth individuals and families come to leverage them to their full potential.
Stackr intends to solve this while maintaining all the benefits.
What is Stackr?
Stackr is our solution to accessing a diverse range of investments, not only crypto-related but traditional as well. We have also flipped the traditional trust game on its head and used technology to deliver the service, something very hard to find before. You can be fully onboarded through the Stackr app, and once on the platform, you can track and manage your investments, all held through your own personalised trust structure at a low cost. We believe that Stackr is an ideal solution for the 21st-century saver.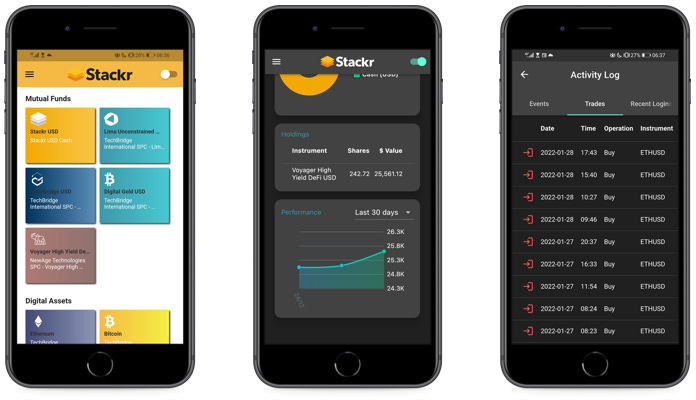 What Assets Can You Hold in Stackr?
Stackr offers a variety of assets on the platform, from crypto to traditional investments.
Crypto
Stackr currently allows you to purchase both bitcoin and ethereum, the two largest crypto networks that exist today. We also provide the option for you to purchase two fully regulated crypto mutual funds, the Etherbridge Fund and the Voyager High Yield DeFi Fund, which offer more diverse exposure to crypto in general.
To make this possible and provide you with peace of mind, we have partnered with regulated custodians who have the necessary infrastructure and expertise to manage your crypto safely. While you don't hold the crypto yourself, this is a very important step in separating you from the assets to get the full benefit a trust structure provides.
As time goes on, we will increase the number of crypto-related products on the platform to provide you with a broad range of options.
Traditional
As we start heading into the fourth industrial revolution, the tools we use to make investments will change. Through Stackr, you can access investments like the Lima Unconstrained Fund, a machine learning-driven fund that tracks and intends to outperform the Vanguard Total Stock Market ETF. You can invest in ETF's such as the ARK Innovation ETF, ARK Next Generation Internet ETF, Amplify Transformational Data Sharing ETF or even something like the iShares Global Clean Energy ETF.
Through Stackr, we can even provide discretionary fund management solutions if needed. Below is a list of the investments you can currently make on Stackr: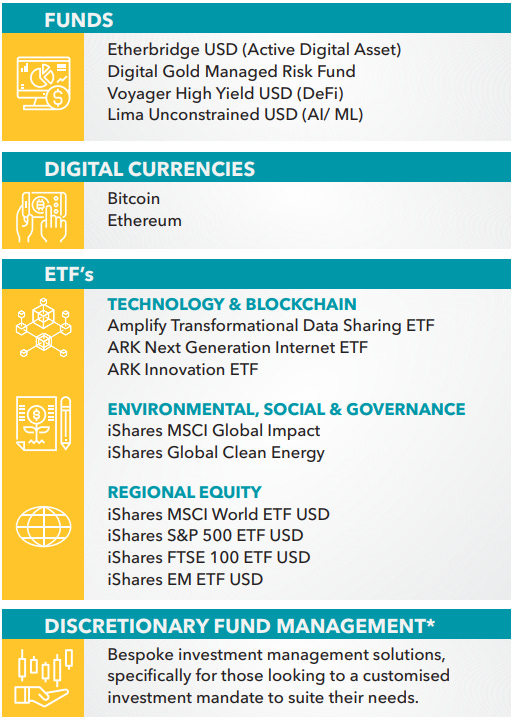 These investment options will increase over time; we will focus on providing exposure to some of the market's most innovative and exciting opportunities. Stackr really can be a tool for those looking to save for the long term, both young and old and those who want to pass down wealth to future generations.
As a potential user, the next biggest consideration should be how Stackr works under the hood.
Stackr Trust: Under the Hood
Investments made through the Stackr platform are held by a sub-trust formed in Bermuda on behalf of each investor, which ensures that all investments will be safeguarded and governed by applicable Bermuda law.
The custodian of the assets in each sub-trust is Bank of N.T Butterfield & Son Limited, and the trustee is Altree Trust. The trustee establishes sub-trusts for eligible investors, and investments selected by the investor are made by the trustee for the investor's benefit.
Each sub-trust is a separate legal entity, and as such, its assets are effectively insulated from the general creditors of the trustee or other sub-trusts.
This added safety and protection, combined with Bermuda's financial security and political and economic stability, allow investors to better diversify their assets in times of economic and geopolitical risk. Lima Capital LLC is the appointed, regulated Investment Advisor to the Stackr Master Trust.
The combination of the above has allowed us to provide the service that Stackr does and provide you as the client with total peace of mind that your investments are safe and well looked after.
Stackr Key Facts and Costs
Stackr is an exciting product designed to allow everyday access to something usually only reserved for the high net wealth individual. Below are the costs that you can expect when using Stackr and some of the key facts you should know: